1 MW decentralized rooftop system? Check.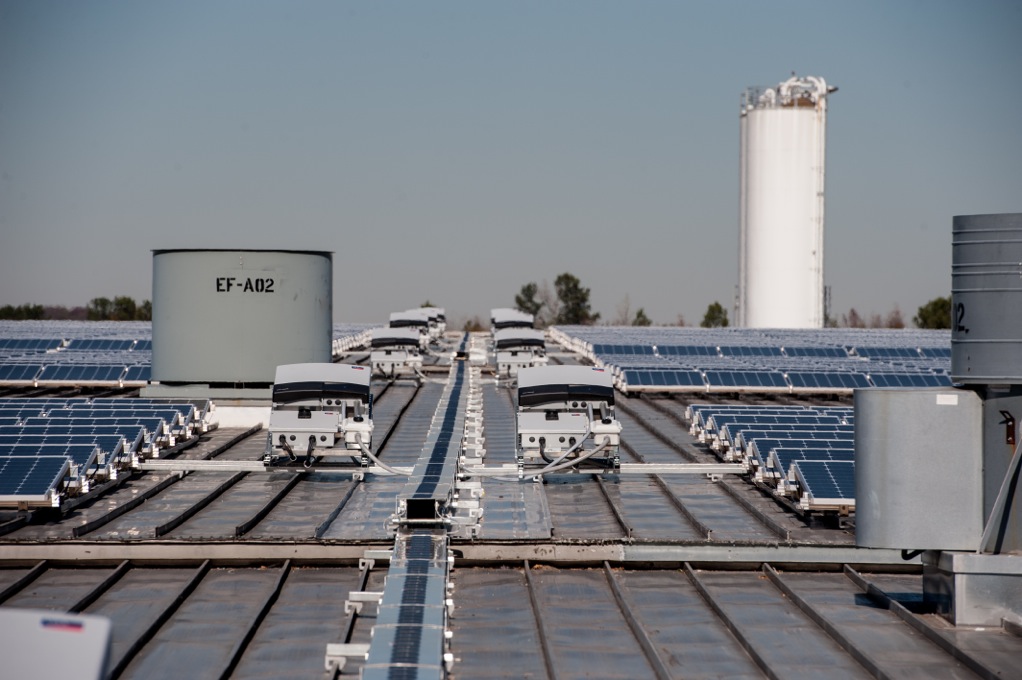 Catersville, Georgia is now home to one of the Southeast's largest commercial photovoltaic installations. The 1MW (DC) system was designed and installed by Radiance Solar of Atlanta and is expected to produce 1.4 million kWh annually, the equivalent of 100 nearby Georgia homes, to power the Shaw Industries manufacturing facility.
Shaw is one of the largest manufacturers of high quality flooring in North America and highly regarded for their dedication to sustainability. Shaw began this commitment more than a decade ago, making positive strides in reducing water and energy use and waste created during manufacturing.
All systems go
Visitors to the facility are welcomed by a large display screen showing the system's real-time production and other key system analytics.
The roof-mounted system is generating power from 3,696 SolarWorld panels and 36 Sunny Tripower 24000TL-US three-phase string inverters. Radiance took advantage of the Sunny Tripower's unique ability to be mounted nearly flat, locating the inverters on the roof within 10-feet of the array. This allowed the system to easily comply with the rapid shutdown requirements of NEC 2014's code requirements.
Thanks to the incredible size of the manufacturing facility, the amount available roof space makes the 1 MW solar system look small by comparison, leaving plenty of room for the possibility of future system expansion. Environmental benefits from the system will be equivalent to nearly 950 tons of carbon dioxide and 5 tons of nitric oxide annually.
"We selected Tripowers to maximize output and make the system more reliable and easier to maintain by using three-phase string inverters instead of a central inverter," said James Marlow, CEO and co-founder of Radiance Solar. "SMA has been a proven partner for Radiance on plants of every size. Quality design and engineering, technical support and a strong balance sheet continually make SMA a top partner for us."
A natural progression
Shaw's 2012 investment of $5 million for factory-wide energy efficiency improvements and reductions in greenhouse gas emissions resulted in a near 18 percent drop in carbon dioxide per pound of finished product. Further changes helped reduce fuel use onsite and transition the facility to using more natural gas, contributing to a 14 percent decrease in the company's overall emissions.
Shaw's holistic approach to sustainability has led to the maximizing their investment in energy efficiency and the positive economics of solar for the benefit of the company and environment. Recent advancements in solar technology and system reliability have made Shaw see solar as a mature, reliable power source and a viable long-term investment.
https://en.sma-corporateblog.com/wp-content/uploads/2020/10/Image-7.jpg
680
1022
Justin Dyke
/wp-content/themes/enfold-child/images/SMA-LOGO-Color_s-1.png
Justin Dyke
2014-05-12 07:45:10
2020-12-23 11:34:21
1 MW decentralized rooftop system? Check.