Vision 2050 – Everyone Has an Energy Cube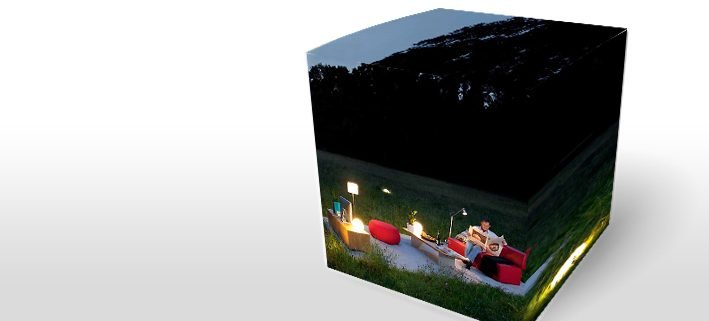 What will the energy supply be like in German households and in small and medium enterprises (SMEs) in the year 2050? The article or vision is intended to stimulate reflection and debate. Sometimes I go into more and sometimes less detail, and while I have given this question quite some thought,  I cannot say whether these thoughts are complete or feasible.
Will I still get my electricity from one of the four energy giants in 2050? Or will there be a power distribution grid that is exclusively fed by renewable energy sources? And who would control this grid? One thing is certain, in my vision for 2050 there will not be anymore fossil fuel power plants and nuclear reactors in Germany. Our energy will be produced by renewable energy installations and partly by human beings themselves. My vision is based on the assumption that no additional power lines will be needed because we will be able to fall back on the existing power distribution grid in order to meet our energy needs. For this to be possible it will be sufficient to have the power distribution grids modernized by 2020.
The New Power Distribution Grid
The new power distribution grid consists of all the renewable energy plants installed in Germany and that in some way produce electricity. It does not matter whether they are biomass plants, wind farms or PV plants. All installations are connected to each other and communicate via interfaces and supply data to a central unit. Alongside this integrated energy system, there are also numerous energy storage units that are distributed throughout Germany and can efficiently store a large amount of energy. The trend towards decentralized energy storage systems became apparent early on. They not only absorb the energy where it is produced and release it wherever it is needed, they also store any excess energy produced anywhere within the system. The energy storage units also communicate with each other and transfer all data to a central unit. This centralized means of recording data makes it possible to compare the energy currently produced from renewable energy installations with the meteorological data and, in turn, compare this with the consumption of the loads. This permits forecasts to be made about potential shortages in energy supply and thus to be able to react in time.
Any electric current produced by a renewable energy installation, which is not used by the individual consumer, will be made available to the energy storage units. In other words, the excess current is immediately stored there. Free of charge? No, but I will return to this later. Anyone who has his own renewable energy installation receives an identification number and consecutive tickets. Based on this unique identification number, the renewable energy installation can be clearly assigned to the operator. The tickets are continuously issued on a daily basis. Each ticket contains the data for an entire day, which also includes the power transferred to the energy storage unit. The ticket numbers are important for invoicing between plant operators and public utility companies.
The many public utility companies are in charge of "monitoring" energy storage, as well as checking the heat and water supply. They are responsible for ensuring smooth operation and carrying out maintenance work, including any repairs needed on and throughout the entire transmission line. In 2050, the public utility companies will not be mere "energy suppliers,", but also IT companies and service providers. The energy in the storage units is not owned by the public utility companies, but is only in their possession for the period it is being stored. The energy will be owned by the respective operator of the renewable energy installation who feeds the electric current in. The public utility companies' business model depends on the transmission of energy, provided this is taken from energy storage units. They are obligated to produce in a cost-efficient manner and to invest any profits directly into ensuring a secure public energy supply, new technologies and expanding storage potential.
The Energy Cube
The energy cube is an intelligent and square energy storage unit of one cubic meter (which is where it gets its name from) that is positioned in every household or small or medium-sized enterprise. The energy cube can store up to 250 kWh of electric current. Energy can be stored in order to supply a two- to three-person household with enough electricity for one month. The energy cube can be bought or leased by consumers from the public utility companies.
It has a display through which it can be programmed and is connected to the Internet and power distribution grid. The storage unit can be operated and adjusted via text message, the Internet or a cell phone application. There are many opportunities. The energy cube is then set up between the power distribution grid and the respective household. The energy cube communicates via the Internet with the energy storage units' central unit and continuously calls up current electricity prices. The central unit can thus be compared with a power exchange. Based on the data provided by the central unit, the energy cube is able to purchase electricity if the weather conditions suggest a shortage is likely. Of course, this always depends on the current capacity of the energy cube.
As soon as the electricity level in the energy storage unit runs low (and here it is possible to set the level at which the operator will be notified) the respective household will be informed by e-mail, text message or via a smartphone application. The household is then able to order electricity manually from the central unit or allow the energy cube to do this. Once the previously agreed upon electricity price is reached, the energy cube automatically purchases more electricity. We know this same principle from limit setting in the shareholding business. If the electricity in a certain household is too expensive, then the energy cube can automatically make an inquiry with other energy cubes in the vicinity as to whether they would be able to provide a few kilowatt hours of electricity at a lower price. As long as the energy cube of the household receiving the inquiry has sufficient energy reserves and has been programmed to sell electricity, it is possible for the neighbor to acquire additional electricity (e.g., maximum 10 percent can be sold, as long as at least 50 percent of the energy is still available). Furthermore, the energy cube can retrieve lists on the Internet showing privately run energy storage units. This means consumers do not necessarily have to purchase their electricity from the public utility companies.
We Will Not Only Ask Our Neighbors for Eggs and Flour but for Electricity too
In 2050, we will not only be able to ask our neighbors for eggs and flour if we run out, but also for electricity. For now, we will leave the question mostly unanswered as to how the invoicing between neighbors will work. Perhaps by then there will be something like credit or donation accounts. Those who do not even have the cash to purchase electricity from their neighbors when they run out of electricity could connect their bicycle to the energy cube and generate electricity themselves by pedaling to recharge some of the energy in the electricity storage unit. This might suffice for cooking and/or to provide some light in the evening. In order to cook for 15 minutes these days, one would need to cycle 100 km and for an hour of television 27 km.
But the energy cube has many other advantages. It can release up-to-date reports on energy consumption. Among other things, this reveals which household devices operate efficiently and which do not. It can compare the data retrieved with the devices of other households and thus demonstrate further potential for saving energy. It always provides up-to-date forecasts about the anticipated annual consumption and issues warnings if there are any irregularities. The display shows the current power consumption and assigns this to the respective devices. The energy cube can also control devices and switch them on and off independently (e.g., a washing machine). The energy cube has a unique type of intelligence and is capable of learning. Hence, it only switches the washing machine on at 3 p.m. and not at 2 p.m. because electricity prices are usually lower between 2 p.m. and 3 p.m. and the energy storage is set to purchase energy when this price level has been reached. This way, additional savings can be made. In 2050, no household will be able to function without an energy cube.
First in First out Principle
The power will be fairly drawn on the basis of the first in first out (FIFO) principle from storage units organized in a decentralized way by the public utility companies. This may not be feasible today, but it will be in 2050. There will be a quota system to ensure that operators with a low share of electricity in the energy storage unit are not placed at a disadvantage vis-à-vis operators with higher shares. This will regulate the distribution of energy and thus help to make the system even fairer. Not only is electric current transferred to the energy storage unit (via power lines) but also data (via the Internet). If it appears that there is too much electricity in the energy storage units, so that any additional electricity being fed in has to be discarded, then energy cubes with a low state of charge will be made to store electricity. Before any electricity has to be discarded, the energy cubes will serve as additional energy storage facility. If there are no capacities here either, then the excess energy would need to be stored in the form of gas. To be fair, I have to give credit where credit is due. The idea about storing electricity as a gas was not mine, but Christian Höhle's.
Christian Höhle also mentioned that any excess electrical energy in summer (which cannot be absorbed by the energy cube or the public utilities' energy storage units) could be stored in the form of gas. In winter this could be used to simultaneously generate heat and electricity through CHPs in every household. By 2005, we can assume there will be a lot more renewable energy sources installed than can be consumed in the form of electricity – and fuel prices are probably not going to decrease anymore – so petrol, diesel and heating oil will be completely substituted by renewable gas (very low gas prices due to massive overcapacity of renewable energies). Studies on power-to-gas technology are already in full swing.
The fact that public utilities will also be IT companies is further emphasized by the fact that energy cubes, energy storage units and renewable energy installations are linked with each other and could therefore be susceptible to attacks and manipulation.
The Economic Cycle
The operator of a renewable energy installation transfers excess electricity to the public utilities' electricity storage units. The energy cube of a respective consumer requests electricity from the storage unit and receives this at a varying price, which is based on supply and demand. Because the energy storage units are interconnected, the subscription price can be calculated in real time. Households will be invoiced by the public utility companies after ordering electricity. As soon as the electricity is taken from the storage units, the operator of the renewable energy installation receives a percentage, say 80 percent of the sales price. The public utility companies will retain a commission amounting to 10 percent. The remainder would be the taxes payable to the state. Renewable energy installation operators will not be required to provide electricity to the public utility companies. They can operate their own energy storage units, enabling other consumers to acquire electricity there. This increases competition and helps keep electricity prices low.
The operators of renewable energy installations will be responsible for the investment and covering the running costs of their installation, since grants, subsidies and other sources of funding will no longer be available in the year 2050. The installation will be financed through the sale of electricity and the operator will also benefit from savings made on his own electricity costs. After all, there are no purchasing costs associated with self-consumption. The energy storage, by contrast, is financed by the state and the public utility companies. The state receives revenues through taxes levied on the electricity price and the public utilities finance themselves through commission.
As we know, the energy storage units will be connected which means it is not a problem if one of the units fails because a certain redundancy is ensured through the large number of energy storage units that exist. Furthermore, defects in these systems can be quickly removed through plug-and-play components.
Is this how our power distribution grid and power supply will look like in future or is it just a nice idea?
It will probably not be possible to implement this vision one-to-one. Further reflection and efforts are needed. The train of thought in this article could also not be completed because I am a businessman, not a technician, so, from a technical point of view, this vision is certainly far from fully developed. Moreover, while I was writing this article, so many more ideas came to my mind that it was simply impossible to include them all. My vision is merely meant to point the way forward and show where this journey could lead. We will see in 38 years time whether only a fraction or all of what has been written will be implemented.
With Michael Ziegler's contribution we have started a series of articles on various themes of the future. Many thanks, Michael, for your interesting contribution.
Michael Ziegler on the Web
German Websites
PhotovoltaikZentrum – Michael Ziegler
Social Media
Photovoltaikzentrum at Google+

https://en.sma-corporateblog.com/wp-content/uploads/2012/10/Energieversorgung-2050.jpg
378
709
Leonie Blume
/wp-content/themes/enfold-child/images/SMA-LOGO-Color_s-1.png
Leonie Blume
2012-10-09 14:05:23
2012-10-09 14:05:23
Vision 2050 – Everyone Has an Energy Cube