Madagascar – A Trainee in the Indian Ocean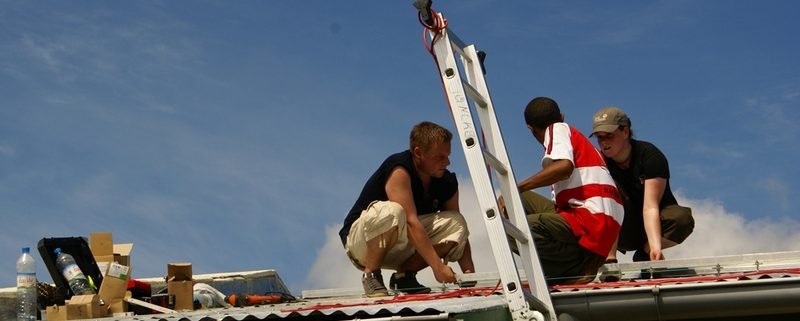 At the beginning of the year, I read an ad on the intranet looking for a trainee for a Madagascar aid project and applied for it with high hopes. During the subsequent interview, I discovered that the position was part of SMA's engagements, in particular those supporting projects in developing countries. At SMA, trainees are always involved in such projects, to give us a chance to see our products in use.


Perpetration in Germany
This time, Mr. Jüncke was contracted by SES to ask SMA for support in PV plant planning as well as to donate inverters and other components for this cause. From the very beginning, this project sounded very interesting to me that is why I was so excited to be selected to participate as a trainee and therefore fly to Madagascar.
At following meetings, I got to know the other 5 SMA members of the 7-strong team, who would also be traveling to Madagascar in their free time in order to set up the PV plants.

The Journey Begins
My journey to Madagascar began on May 11 with a serious case of the nerves, but also excitement and anticipation about what would await me there. Once there, Mr. Jüncke greeted us at the Antananarivo Airport, the capitol of Madagascar. He had been in the country for the past three months and had already prepared everything at the three sites we would be building out. From the airport, we went by car to the Indian Ocean and then on to the island of Nosy Faly by motorboat. My impression from the boat was that we had suddenly been transported onto a postcard: white beaches, the crystal-clear Indian Ocean, bordered by palm trees and exotic plants.

Solar Power for Madagascar
The first project was to install a PV plant for a small hospital. I helped where I could, especially with setting roof hooks, mounting tracts and installing PV modules. Our next location was a 5-hour drive away, where we installed a PV plant for a university. I quickly learned that the sense of time there is much different than it is back in hectic Germany. They take their time for every task and you constantly here the phrase, "MORA-MORA", which roughly translates to "slowly-slowly", or "take your time".
Once the PV plant was up and running, we made our way to Diego. On our way there, we stopped to visit a national park, where we saw lemurs, field mice, chameleons and countless crawling animals.

Next Stops: Diego and Antalaha
At the university in Diego, the students had prepared almost everything in advance so that we only had to lay the cables in order to get the PV plant up and running.
Our last stop was at a school in a village near Antalaha, once inhabited solely by leprosy sufferers. Here, I was finally able to put the skills to use that I had learned by observation, as well as trial and error over the past days. I prepared the AC cables, helped to mount it on the wall, to secure the cables in position and to connect the battery. It was a real pleasure setting up this PV plant, as it required a variety of skills and working together with the team was very rewarding. Although I only knew the other team members for a short time and met them just a few times, I never had the feeling I didn't belong to the group. They were all very nice and were willing to answer any and all questions I had.

Free Time in Africa
After work, there were many things to check out on the island. Everything was interesting to me, as it was my first trip to Africa. We got to see a former leprosy village, experienced the modest conditions in which people live there, hiked through a completely untouched forest and snorkeled to discover the spectacular underwater world of the Indian Ocean.
The 18 days went by in the blink of an eye. Working with my team abroad, setting up PV plants and experiencing the way locals live their lives was a fantastic experience.
The take-home message for me: I would do it all again in a heartbeat! And, I really appreciate the fact that trainees at SMA have the opportunity to take part in such projects.
https://en.sma-corporateblog.com/wp-content/uploads/2012/07/dach.jpg
384
800
Lena Neumann
/wp-content/themes/enfold-child/images/SMA-LOGO-Color_s-1.png
Lena Neumann
2012-06-19 07:10:42
2012-06-19 07:10:42
Madagascar – A Trainee in the Indian Ocean