Tokelau – the First Country with 100 % Solar Energy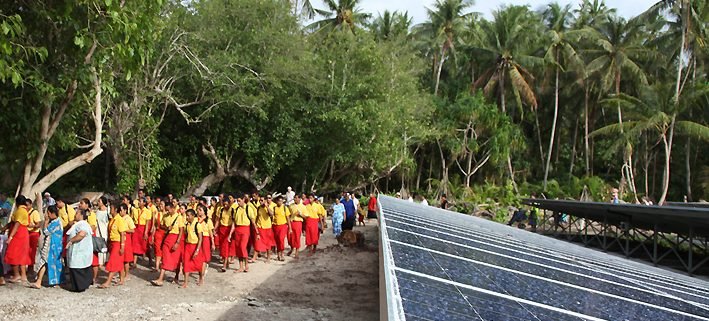 Tokelau is one of the world's most remote countries – and the first to generate its energy supply using only photovoltaics. We spoke with Alexander Kaemmerer of SMA Australia, who spent almost a month in Tokelau supporting the project, training Tokelauans to operate the plants and demonstrating to the clients how to proceed with the rest of the commissioning.
Tokelau consists of three small atolls in the South Pacific Ocean and is one of the world's most remote places. Located north of Samoa, its land area covers twelve square kilometers. The atolls can only be reached by boat. Until now, the islanders relied almost exclusively on diesel generators to meet their electricity needs. This was expensive and accounted for the most of pollution in the area. The electricity supply was far from reliable, with intermittent blackouts. However, Tokelau recently became the first country in the world with an energy supply based fully on photovoltaics. Since October 2012, a plant of 4,023 PV modules combined with 298 inverters and 1,344 battery banks has provided reliable power day in and day out. At one megawatt of power, the entire facility is the largest off-grid system in the world.
Achieving 100% of Climate Commitments
Tokelau is particularly vulnerable to the threat of rising sea levels. Therefore, the government considers it quite important to set a good example when it comes to environmental issues. Tokelau – located just south of the equator, with nearly constant solar irradiation year-round – is an ideal candidate for photovoltaics. The three atolls of Fakaofo, Nukunonu and Atafu now operate their own hybrid systems. With 1 megawatt of total power, the plants generate more energy than the 1,411 inhabitants of Tokelau need. They also fully comply with the country's environmental protection requirements.
Photovoltaics Replacing Diesel Generators
Gone are the days in which the electricity supply was so strictly rationed that electrical energy was available only 15 to 18 hours a day. At that time, the diesel generators burned about 200 liters of fossil fuel each day on each atoll. Bringing the fuel by boat was both costly and laborious, because the atolls are surrounded by coral reefs and have no harbors. Cargo and passengers must be offloaded in deep water and ferried to the shore in smaller boats – at no small risk to flora and fauna.
With the PV plants, Tokelauans now have access to electricity 24 hours a day. As a result, the country has also all but ended its reliance on fossil fuels and reduced its dependence on other countries. Tokelau now requires only small quantities of diesel fuel to operate its generators when solar radiation is not available. Because PV plants generate power quietly, the noise level on the atolls has dropped considerably, and the islanders no longer have to offload fuel containers at sea, leaving more time for other pursuits.
Local Added Value
It is crucial for local people to be well informed about their PV plant, particularly in remote regions such as Tokelau. SMA trained local service technicians during commissioning  and workers from the region were also involved in the installation itself. This was good for the country's economy and also served to overcome prejudices against solar energy.
Please read also our press release 
Interview

"A very special project"

Alexander Kaemmerer of SMA Australia spent almost a month on-site providing support and training the locals in the operation of the system. We spoke with him about his experiences.

Alexander, Tokelau is way out in the Pacific Ocean. What was it like to get there?   

The first leg of the trip was nothing out of the ordinary. I flew from Sydney to Auckland, then on to Samoa. The adventure began in Samoa where I had to source some fresh groceries for the household I was to stay at. Although there are regular food deliveries to the islands, it is easier to source some items in Samoa as they can sometimes be in scarce supply.

From Samoa, I was scheduled to travel to Tokelau by boat because Tokelau doesn't have an airstrip. Fortunately, our client had told me to get there a few days early, because the boats don't always leave as scheduled. In fact my boat did leave two days early, so I was lucky I didn't have to wait a week for the next ship.

The 24-hour crossing was a real eye-opener. It was the ship's maiden voyage so before we sailed, a Samoan priest blessed the ship. Then I noticed that all the other passengers were carrying mats and blankets. My mistake! I spent the night moving around to different places on board. I started off on the cabin seats, but the air conditioning was on full blast, so I moved to the deck. I lay down on a benche and was fairly comfortable – until a wave of seawater washed over me. I dried off quickly as it was a typical tropical night and I took shelter behind a cargo container where I managed to sleep until dawn. At that point, we were not far from Nukunonu. The locals had arranged for the new boat to stop at each of the three atolls to have it blessed then show it off. The locals held a feast and everyone eas invited. It was my first taste of island life! It took another 24 hours before I arrived at Fakaofo, my final destination and the place I was to spend over three weeks.

What was it like to work with the islanders on site?

It was nothing at all like our ordinary routine in Australia. Both the islanders and the team from PowerSmart were very welcoming. The installers from PowerSmart worked long hours to get the system completed to schedule. The islanders worked at their own pace of life and came to the site sporadically. When they were on site, they had one favorite song that they played on repeat every day.It takes some getting used to how things work on the there, but in a way it's also very nice. Whenever the installers wanted to use the drill, its rechargeable battery could be found powering the stereo.

Tokelau has almost no infrastructure. How did you all manage? 

I went back and forth to work every day in a small motor boat. That was different, but also quite delightful. The underwater flora and fauna are amazingly colorful. And in my free time, I could go snorkeling and enjoy them all over again. It was really fabulous to just jump into the water after work and gaze at the corals and the fish, with just the colors and the quiet all around.

That sounds like paradise. Would you like to go back? 

Well, yes and no. The boat was delayed again on the way back because it had to stop at both Nukunonu and Atafu at daytime to load and unload the solar installation equipment, so it took more than 50 hours to get to Samoa. I had to spend two nights in Samoa before I could get a return flight and after that I was glad to be back in my own bed.. Everything in Australia is just more structured! My time in Tokelau was unlike anything I had ever experienced before and made quite an impression on me.

Alexander, thank you very much for this interview.
https://en.sma-corporateblog.com/wp-content/uploads/2012/10/Tokelau.jpg
378
709
Leonie Blume
/wp-content/themes/enfold-child/images/SMA-LOGO-Color_s-1.png
Leonie Blume
2012-11-23 14:56:59
2012-11-23 14:56:59
Tokelau – the First Country with 100 % Solar Energy