SolarWorld and SMA Partner to Bring Clean Drinking Water to Thousands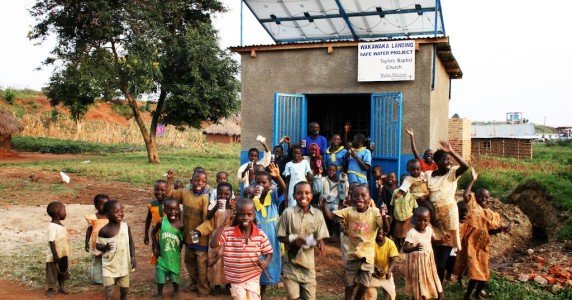 Imagine sitting down and ordering a glass of water at a restaurant, but instead of a nice, clear glass of water you're handed a glass of cloudy, brown liquid. Would you drink it? For millions of people, this is the only option available.
Each day more than 5,500 lives are lost because of the lack of the most basic human needs – clean water and hygiene. Water Missions International is a nonprofit Christian ministry dedicated to providing long-lasting, safe water and sanitation solutions for people in developing nations around the world.
Water Missions' Living Source water pumps bring clean, safe water to billions of residents in developing countries with high rates of chronic illness and childhood mortality. Today, because of a generous donation from SolarWorld, Water Missions is able to provide even more resources to this crucial cause.
SMA America recently partnered with SolarWorld to install a 100 kW PV system at the Water Missions headquarters. The new 43,000 square foot headquarters is located on a former U.S. Naval base in North Charleston, South Carolina. The PV system is believed to be the largest solar installation for a non-profit organization in the world, and the second largest PV installation in South Carolina.
Installation of SolarWorld SunFix ground mounted panels was made possible by Mountain View Solar and dozens of volunteers. SMA America was thrilled to have been involved in the project and donated 12 Sunny Boy inverters to this incredible cause
"When SMA America generously donated inverters for the Water Missions project, it gave a gift  that will keep on giving for decades by maximally extending the charity's ability to aid the world's neediest citizens," said Kevin Kilkelly, president of SolarWorld Americas, the company's commercial unit. "We could not be more glad to once again partner with this well-trusted, long-proven technology partner.  SMA, SolarWorld and several other high-standard U.S. domestic producers have furnished   technological reliability to ensure that this donated system pays optimal humanitarian returns."
Money that was previously used to pay for high utility bills can now be used to provide clean, fresh water to thousands around the globe.  Water Missions will save $12,000 per year with the new donated PV system. It costs Water Missions $10 to provide one person lifetime access to safe water. The new solar PV system installed at Water Mission's headquarters will save thousands of lives over the lifetime of the system.
https://en.sma-corporateblog.com/wp-content/uploads/2013/03/SMA_clean-drinking-water.jpg
300
572
Melissa Womack
/wp-content/themes/enfold-child/images/SMA-LOGO-Color_s-1.png
Melissa Womack
2013-04-01 16:10:37
2013-04-01 16:10:37
SolarWorld and SMA Partner to Bring Clean Drinking Water to Thousands