Quiet on the Set! No Noisy Generators for Jason Bateman's New Film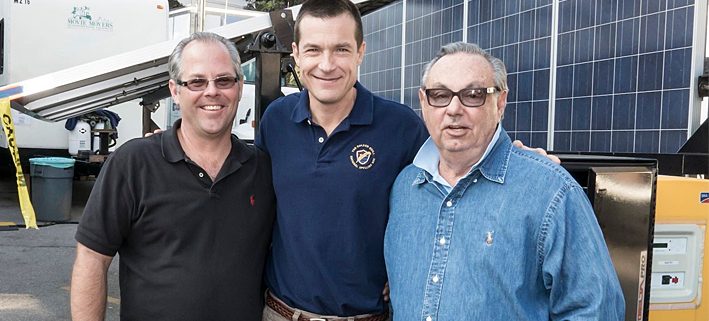 Jason Bateman, a film and television actor best known for his role as Michael Bluth on the sitcom "Arrested Development," is adding director to his long list of accomplishments. Bateman's directorial debut of "Bad Words," an indie film about a childhood spelling bee contestant who sets out to win as an adult, is screening at the Toronto International Film Festival September 5–15, 2013. While Bateman is redefining his role in Hollywood as a director, he is also helping pave a path in the film industry for clean renewable energy.
A Hollywood First
California is consistently ranked as one of the top solar states in the country. One would assume that the cutting-edge Hollywood scene is already using solar, taking advantage of the plentiful California sun and perfect weather. But, until recently, there were many hurdles for solar in the film industry, one being the vast amount of open space often needed for a solar array.
The forward-thinking producers at Darko Entertainment and Bateman's production company Aggregate Films were determined to create the film using a "green set", with solar as a high priority. Working together with mobile solar solutions provider, DC Solar Distribution, they found a way to make it possible. "Bad Words" is one of the first films to effectively use solar power during movie production!
The Solution? Mobile Solar!
Solar was used during production to provide power to the base camp, production trailers, craft services, telecommunications and light towers. DC Solar Distribution supplied four 20k Solar Eclipse SCT20 mobile solar generators, a solar-powered light tower and cell tower. Each Solar Eclipse includes 10 PV panels, two SMA Sunny Island US inverters and a battery bank – all mounted on an easily portable trailer.
The DC Solar Distribution solar solution not only saved thousands of gallons in diesel, it reduced production time and improved community relations. The plug-and-play solar trailers are compact and easy to maneuver on busy city streets and quaint neighborhoods. The batteries allowed for shooting to begin before dawn, at sensitive locations where smelly, noisy generators are prohibited.
Moving Forward
Hollywood is watched by the world for the latest movements and trends – from fashion statements to hot new cars. Some celebrities use their status and shine attention on causes they support. Julia Roberts, Edward Norton and most recently Mark Ruffalo have been avid advocates for solar, installing PV systems on their own homes.  Now, word is starting to travel fast in Hollywood that solar power is an intelligent choice for the film industry too.
From the environmental impact to the high price of gas, noise and fumes that come with generator, the mobile solar trailer is the answer producers have been waiting for. Studio executives are ready to move solar onto the A-list, making it Hollywood's next big star!
https://en.sma-corporateblog.com/wp-content/uploads/2013/09/bateman_movie.jpg
378
709
Melissa Womack
/wp-content/themes/enfold-child/images/SMA-LOGO-Color_s-1.png
Melissa Womack
2013-09-27 11:02:00
2013-09-27 11:02:00
Quiet on the Set! No Noisy Generators for Jason Bateman's New Film