Facts and Figures about the Bamyan Off-Grid Renewable Energy Project, Afghanistan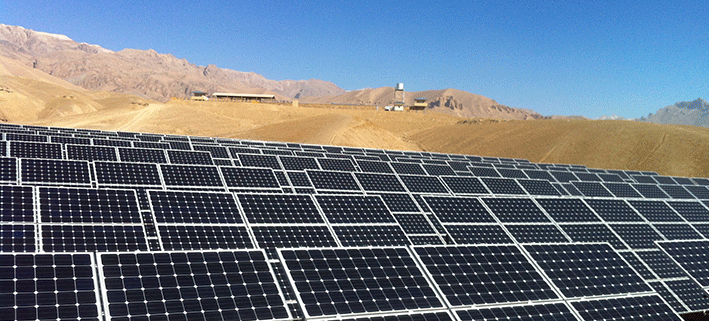 We recently introduced the Bamyan Renewable Energy Programme in Afghanistan. This program funded by the government of New Zealand is the biggest so far. With 1 megawatt output, it is also one of the world's largest off-grid solar systems in the world.
It consists of a PV generator supplemented with a diesel generator and batteries for periods of poor weather. And it reliably supplies homes, businesses and government building, such as schools and hospitals, in the villages of Bamyan New City, Haiderabad and Mullagullam with clean electricity 24 hours a day.
Many of you asked us to give more information about this exciting project. So here you are:
Project Name: Bamyan Renewable Energy Project
Field of Industry: Rural Economic Development
Nominal Power "Renewable Energy Sources with Solar Power" in kWp:  1,050 kWp
Annual Output in kWh: 1,400,000 kWh
CO2-Reduction in t: not calculated yet
Date of Commissioning: Dec 20th 2013
Inverter – Amount:  SI5048 x 114 units
Inverter – Type:  STP17000 x 50 units
SIC50 charge controller: x 72 units
Solar Module – Amount: 4,176 x LG 250 Wp
Solar Module – Producer: LSIS
Solar Module – Type: Mono
Battery Capacity in kWh: 38 strings at 4,500 AH 48 VDC
Battery Type: Flooded, Crown Battery
Generator – Amount: FG Wilson back up generator capacity is 750 kVA (3 x 275 kVA units derated for altitude)
Generator – Type:  FG Wilson Diesel.  3 units installed
Total Genset Power in kVA: 750 kVA
Power Ratio (Ratio between PV peak power and genset nominal power) in %: 750 kVA = 600 kW.  1050 kWp of PV means we have 600/1,050 = 57% ratio
Nominal Load in kVA: No past load history as community have not had power before
Expected Annual Fuel Savings in litres: Not calculated as the community have never had power before so there is no existing load pattern or history
Communication and Control devices: Sunny Webbox
Specialties:  Bamyan is a high altitude site at 2,800m.  It is bitterly cold in winter (temperatures down as low as -25°C) and hot in summer.  The designers needed to take these factors into account when selecting materials and components.  Also being a post or active conflict zone there is great challenges with logistics and materials handling and transport.  The project also constructed the complete transmission and distribution line required for the project including 20 kV transmission lines with LV to the houses.  Pre pay metering was installed in all houses to ensure financial sustainability.  Detailed training was provided for the local Government utility to ensure the technical aspects of the project can be supported, and SESI will leave trained staff in both Bamyan and Kabul to provide immediate technical and managerial support for the utility going forward.
Description: The project provides power to 2,500 homes, businesses and government offices in the mountainous central Afghanistan province of Bamyan.  Bamyan is the location of the famous Buddha statutes destroyed by the Taliban.  The project includes a mix of solar, battery and diesel backup.  Because this is the first power that the community has received, all predicted data on future energy demands is estimated and based on the past experience of SESI.  Power transmission and distribution lines were all designed to international standards and Afghan government voltages to ensure forward compatibility with future expansion efforts, and to ensure safe and reliable power delivery.  The project is a high quality example of what can be achieved in very challenging environments if the right mix of resources is brought together.
Location: Bamyan Province, Central Afghanistan
Operator: Da Afghanistan Breshna Sherkat (DABS)
Read more about this project in the article "Sunrise for the People of Bamyan, Afghanistan"
https://en.sma-corporateblog.com/wp-content/uploads/2014/04/Afghanistan_Bamyan_SMA.png
378
709
Stella Maria Pfeifer
/wp-content/themes/enfold-child/images/SMA-LOGO-Color_s-1.png
Stella Maria Pfeifer
2014-04-10 08:35:03
2014-04-10 08:35:03
Facts and Figures about the Bamyan Off-Grid Renewable Energy Project, Afghanistan