Challenge Accepted: Limited roof space trumped by the desire for solar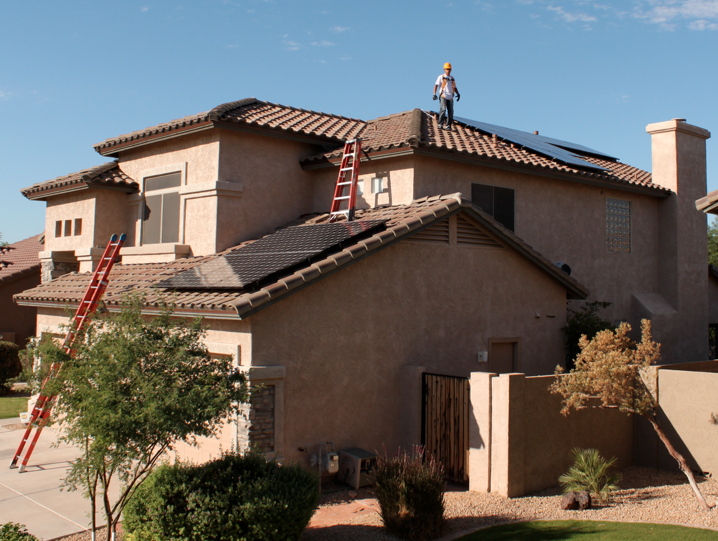 There is no lack on sunshine in Chandler, Arizona. Residents of this Phoenix suburb enjoy 211 days of sunshine annually with an additional 85 days of partial sun—perfect for solar power. But a residential PV system needs more than just abundant sunshine to be a wise choice. It also needs a willing partner – a roof capable of handling the added demands of a solar power system. This was the challenge faced by Jeff Spies, Senior Director of Business Development for Quick Mount PV when he made the decision to install a 4.7 kW system on his home.
Raising the roof
Before a single module was installed, Spies knew the condition of his roof wouldn't last the 30 years he expects of his PV system. Fortunately, American Solar is licensed for both solar and roof work and was ready for the job.
The tile roof's 16-year-old deteriorated felt underlayment was upgraded to #90 mineral surface roofing underlayment and drain-through battens replaced original wood battens to maximize rainwater drainage. Plumbing and gas vent stacks were also removed or relocated to make room for the array.
Mounting and positioning
Once the roof was deemed solar-ready, installers used Quick Mount PV's flashed Quick Hook and Ironrdige standard rail. This configuration fully conceals the roof flashing to maximize the array's appearance.
Serious consideration was also given to the array's orientations. With no true-south facing roof area, the system was designed using two separate strings of LG 260W Mono X Series modules, 18 total, on different rooflines, taking advantage of the dual channel inputs and MPP tracking on the Sunny Boy 4000TL-US. By positioning one string southeast (3.1kW) and one southwest (1.6 kW), power production and roof space were both maximized.
Secure Power Supply
No one wants to gamble on a grid failure, especially on a hot Arizonan summer day. But if it happens, Spies knows he has a game plan. The TL-US series' Secure Power Supply is a switched outlet that provides up to 1,500W of standby power should the grid go down during daylight hours.
"The SPS outlet is wired inside my house and stays hidden when I don't need it," said Spies. "But it provides peace of mind knowing that when we have a power failure, I've got standby power to keep my fridge cold and my phone charged so my family and I can stay in touch."
Long-term planning is an integral part of a PV system's design. From roof repairs and weatherization to Secure Power Supply to help mitigate downtime from grid outages, thorough planning can make or break a PV system's effectiveness. Good planning means this house is ready to handle whatever the conditions throw at it.
https://en.sma-corporateblog.com/wp-content/uploads/2020/10/QM5.png
541
718
Justin Dyke
/wp-content/themes/enfold-child/images/SMA-LOGO-Color_s-1.png
Justin Dyke
2014-02-20 07:30:52
2020-12-23 13:32:52
Challenge Accepted: Limited roof space trumped by the desire for solar