The Top 5 Solar Stories in February 2014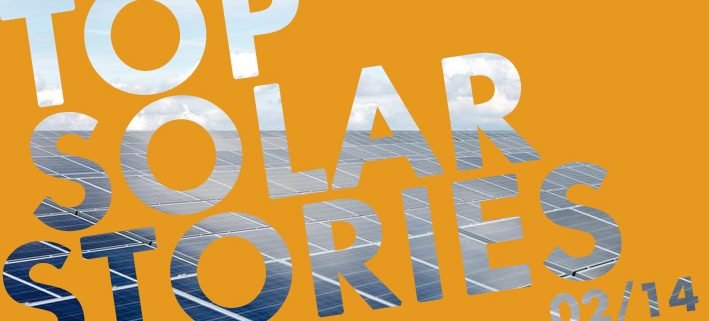 These are the top stories you can't miss in February:
1.      Goldman Sachs: Renewable Energy Sector Now 'Incredibly Compelling'
Goldman Sachs is expecting that costs of solar will continue to drop as efficiency improves, and that before long solar power will be very competitive with conventional sources of electricity in many parts of the world– without subsidies. It is also expecting renewable energy storage problems to be largely solved in coming years. Read the whole article on The 9 Billion to find out more.
2.      Rooftop Solar PV Will Soon Be Cheaper Than Coal
A new study suggests that wind and solar plants are already competing with fossil fuel costs in Europe. Soon, even household rooftop solar PV systems will generate electricity cheaper than coal. And it won't have the delivery costs. Giles Parkinson summarizes the main facts from Germany's Fraunhofer Institute for Solar Energy Systems for you on Renew Economy.
3.      Renewable Energy Competitive Despite Declining Incentives
A new survey which finds that renewable energy remains competitive despite decreasing government funding in a variety of nations. The report predicts that renewables will be increasingly produced at market prices, and says that there are very good investment opportunities in nations with low renewable energy market shares including France, Malaysia, China and South Africa. Read more about the results from Rödl & Partner on Solarserver.
4.      Global 2014 solar forecasts lifted dramatically
Leading investment house Deutsche Bank has dramatically raised its forecasts for demand in the global solar industry, predicting that 46 gigawatts of solar photovoltaic will be installed across the world in 2014. Even more dramatic is the fact the Deutsche Bank says demand for solar PV will jump by another 25 per cent to 56GW in 2015. Find out what convinced them in this great summary on Econews.
5.      Richard Branson Shows How Renewables Make A Difference Today
The Caribbean island owned by Virgin tycoon Sir Richard Branson is to be fitted with a solar and wind powered mini-grid installed. The system will be installed on Branson's Necker Island, one of the British Virgin Islands, supplying up to 80% of its energy needs and reducing its reliance on diesel-generated power. And many other Caribbean Islands have decided to follow this model. Read more in this article from the New York Times.
As renewables become an integral part of the energy mix around the world, you sometimes lose track of the global developments. Things change on a daily basis, articles are published almost every minute which is why we will recommend five stories you must read every month. They will vary from interesting comments to fascinating reports or images from the world of renewable energies.
https://en.sma-corporateblog.com/wp-content/uploads/2014/03/top-solar-stories_feb14.jpg
378
709
Jannis Rudzki-Weise
/wp-content/themes/enfold-child/images/SMA-LOGO-Color_s-1.png
Jannis Rudzki-Weise
2014-03-04 10:38:58
2014-03-04 10:38:58
The Top 5 Solar Stories in February 2014