Barbora – Marketing Manager and Bollywood Dancer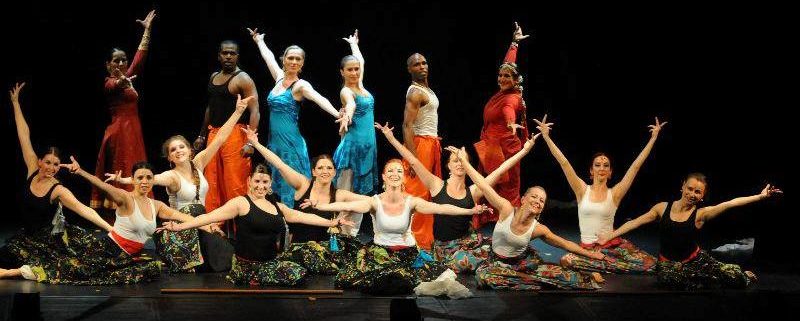 I have been wanting to write this story about my colleague Barbora Skulinkova for ages. But Bara insisted: "Please, please…not until we reach some kind of a real success!" Well, the time has come. We have a real STAR in our office and proud of it! A Bollywood Dancer, performing each week in one of the best and the most well-known theatres in Prague called ABC.
Almost every day, when I ask Bara in the office: "So what are your plans for tonight?" She replies: "Training." Yeah, well, all I could imagine about Bollywood dancing was just: Some kind of an Indian dancing. I have also looked at the internet pages and there it stated: Dance-audiovisual performance inspired by Indian culture and dances (Bollywood, Bhangra, Bharatanatyam, Kathak). Whatever…

But then I visited the theatre premiere on 29th of January 2012. I was overwhelmed, I had never seen anything like that before! An assemble of sixteen artists called Shiva's Wheel of Life. Almost two hours of dancing. Beautiful and colourful costumes, terrific choreography, story and design, an unbelievable, breath taking performance. Standing ovations, fantastic atmosphere.
And the next day back in the office, sharp, ready, and performing outstandingly as well. That is what I call a real multitask person! Well to make the story even more exciting, after the opening night at the theatre, the Czech TV Channel1 called and requested Barbora and the team to perform live on TV, the main channel, during the Czech Academy Awards night. So on the 3rd of March, we all watched Bara live on TV, among all the famous award winning actors and movie directors! Performing perfect again…and now I am only wondering what is coming next… 🙂
https://en.sma-corporateblog.com/wp-content/uploads/2012/03/Baras_Tanzgruppe.jpg
328
800
Lena Neumann
/wp-content/themes/enfold-child/images/SMA-LOGO-Color_s-1.png
Lena Neumann
2012-03-06 15:20:17
2012-03-06 15:20:17
Barbora – Marketing Manager and Bollywood Dancer